In addition to in-person sessions in my Corte Madera and Novato offices, I offer Online Counseling via secure a video conference service, or by phone, to clients located anywhere in the state of California.
You can learn all about my Online Counseling practice on this page. If you have additional questions, or would like to schedule a FREE introductory 20-minute online or phone session, visit the Contact Me page and fill out the form or call me directly at 415-328-6423.
General FAQs
What is Online Counseling?
Online Counseling is the practice of psychotherapy offered via a secure, HIPAA-compliant video conferencing system.
Where a video-based session is not possible, though not as effective, a voice-only session over the phone can be substituted (my rates are the same either way).
Why do clients chose Online Counseling?
There are many good reasons why more and more of my clients chose Online Counseling:
To supplement in-person therapy sessions
Cannot find a therapist you like in your local area
You have a very busy schedule and Online Counseling offer more scheduling flexibility
You don't have to arrange for child care
A physical or other disability makes it difficult or impossible to leave your home
Sessions can be arranged with more than two parties involved, such as in Family Therapy where people are spread out geographically (the primary client must be a California resident however)
It's just so convenient to receive therapy from the comfort of your home or other private location
What are your fees for Online Counseling?
See the My Fees page for details on my Fees.
Do you accept insurance for Online Counseling?
Yes, depending on your specific plan, your insurance may cover a percentage of my fees. See my Insurance page for full details and recent changes put into effect in March 2020 due to the COVID-19 pandemic.
Do you provide Online Counseling outside of California?
Therapists are licensed on a state-by-state basis, and as I am licensed in California, my primary client must reside in the of California.
Do you offer Online Counseling to families, teens and children?
I offer online counseling with teens (age 12 and up) and with families (parents with teens and/or children). I only work with children alone via in-person sessions at this time.
Is Online Counseling always as effective as in-person therapy?
Online therapy alone can be effective in many situations. In some cases it may be best to combine online with in-person sessions. The applicability of online therapy to your specific situation is something we can discuss in a FREE 20-minute introductory online session of phone call.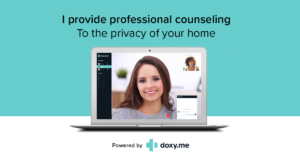 ---
Technical FAQs
How does Online Counseling work?
I use a HIPAA-compliant video conferencing service used by many psychotherapists and medical professionals called Doxy.me which is very easy to use and does not require you to download or install software on your computer as it works entirely within your web browser.
What are the technical requirements?
All you need is the following:
A good reliable Internet connection. Generally, if you can stream videos (e.g. YouTube) and/or use Skype or other video chat program on your computer, your connection is probably good enough for use with Doxy.me.
A Windows PC or Mac computer equipped with a camera, a microphone and the Chome, Firefox or Safari web browser.
If you are in a noisy environment, a headphone or earbuds with a built-in microphone will help with the audio quality.
You may also use a mobile phone or tablet (Apple or Android) but generally the smaller screen and lower audio quality makes this method less effective than a full-size PC or laptop computer.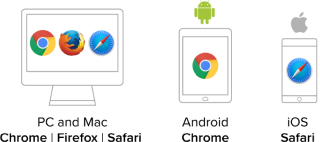 Why can't we use Skype, Facetime, Zoom or other video chat program I am used to?
These programs are not fully secure and private and could violate my legal responsibilities under federal HIPAA regulations.
How do I learn more about Doxy.me?
Visit doxy.me/patients to learn more.
What if I don't have an internet connection or the quality does not support video conferencing?
I also offer counseling by phone as well which also serves as a backup if your internet connection stops working.
Is there a way I can test my computer and Internet connection to see if it will work for online counseling?
Yes, go to my Client Login page and click on the Test Connection button.